I really promise to be regular this time....
No i'm not talking about my bowel movements.
The band and I have been through a very difficult period, collectively and personally. But we're still together and thats whats important. Since i'm on cliche's anyway, let me tell you that being in a band is the closest thing to a marriage, without the weepy sex. In my case, im in a 4-way. Now I'm wondering how my analogy degenerated into a gay orgy...
Like most marriages, we've added another member to save ourselves. Our long search for a manager has ended and we are proud to announce Samme Sani Ahmed as our manager. Check out his blog
here.
Samme and me have known each other for a while now, and it appears that Samme has known everyone in media forever. We immediately bonded over our mutual love for dick and fart jokes so naturally I had to hire him as the caretaker of my bands future.
Now this takes a huge load off me, because I was damn near going insane trying to manage the band, book shows, media appearances, shoot videos and trying to play music at the same time. Plus having an outside guy really helps us resolve our issues better and not murder each other with a blunt object.
So far Samme's first show with us was, as mentioned earlier, a bit of a disaster. We were performing for Radio1FM91 at a private gig along with our awesomely talented buddies Zeb and Haniya. Now somewhere along the way, my beautiful cherished companion of 5 years (my Fender Amplifier) was tampered with and a short circuit pretty much fried it completely. I sent Samme and Lodhi off on a wild goose chase thinking a replacement fuse would do the trick, instead, it burst into flames as we were sound checking. In retrospect we must have looked pretty comical, in fact heres a picture of me completely at my wits end (courtesy Kohi Marri)
We finally scrambled to get the show started on time, using a tiny replacement amp with a distortion peddle. Trying to get a good sound out of it was a nightmare and I was left just helpless on stage. Check out the amp in the background of this picture as well as Yasir with his trademark "Mujhey awaaz nahin aa rahee...."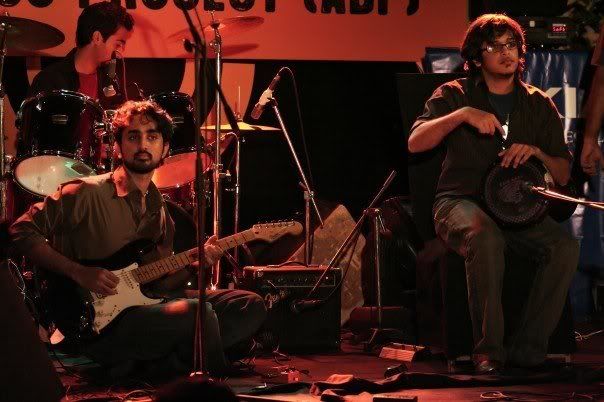 Needless to say we were well below our standard, and the crowd was pretty indifferent, except from a few of our longtime supporters. I was so frazzled and tense by the amp episode, my singing was off and I was quivering like puberty ridden teen. OK begged us to cut the set short so we did. I think the only thing that saved us was our on-the-spot rendition of Beedi, complete with Bipasha-thumkaas.
I was despondent after the show. There was no high of a good performance. The people who usually come up to me after a show weren't making eye contact. Saqib Malik, the awesome director of Ali Azmats "Na Re Na" video and Fuzon's "Khamaj" was in the audience and as silly as it sounds I was desperately hoping we would impress him enough to make our next video. Basically I thought we'd blown it. I suppose you take the good gigs with the bad, but I was especially hoping to come back with an impact since our last show was in August.
Anyway, like I said, we can't wait to get back to doing regular shows and i'm keeping December as the month for when we will officially release our album. Stay tuned on this blog...
Labels: Gigs