Inspiring moments from the Show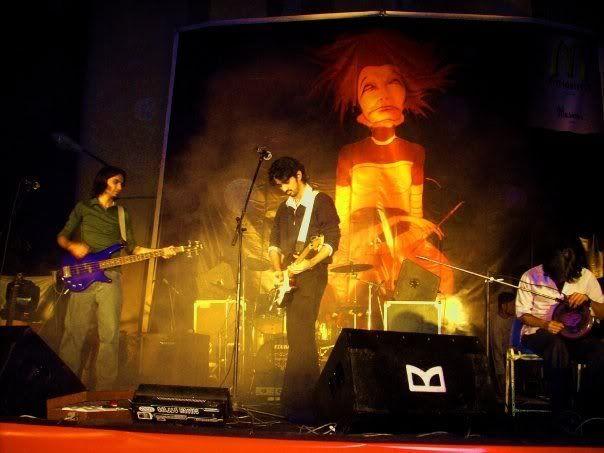 1)
Hoisting up our giant 15 foot "Aunty Disco" onto the stage backdro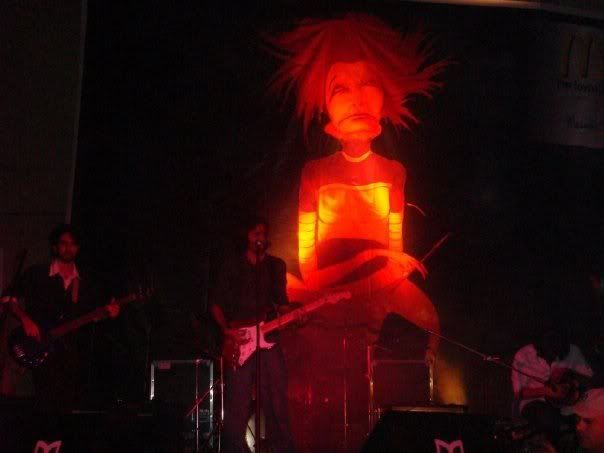 p.
It was a really perilous aff
air but it was worth it. When it was lit up, it was a menacing and provocative image that seemed to be jumping out from the stage. Check out how it looked.(Pictures courtesy Ayesha Ahmad and Sara Memon)
2)
Faraz Haider and his band.
We couldn't have asked for a better opening act. They were loud and energetic, they played a note perfect show and got through their set quickly and efficiently, really setting up a great atmosphere.
3)
Us opening the show with "Sultanat".
People told me it was one of our best performances of the song. The sound was incredible, the drums were thunderous and the bass booming. When we came in with the signature opening riff, the crowd went wild. I nearly wept for joy when during the quiet part of the song, the entire audience sang the chorus back to me. It was a dream come true.
4)
Yasir's on-the-spot darbuka solo.
He played the audience with his hands, going from a hypnotic belly dance rhythm to a quiet tapping and climaxing with a thunderous assault on the drumskin.
5)
Imran singing "Is Tanhai Ko"
with the audience singing along and swaying to the beat.
6)
The mighty drumming of Omar Khalid.
For a change OK didn't drop the sticks once, and he was really on fire that night, pounding out the rhythms like a man possessed. The only glitch came when he suffered a cramp in the middle of "Black Dog" and stopped playing, much to our bemusement. But he didn't drop the beat and got back into the song to give a great ending.
7) Our number one fan who Imran christened "little girl" (you know who you are!) who stood in the front row throughout but sadly had to leave before our last two songs. Just before I did "Nazar" she came running to the stage and asked me to sign her CD while the whole audience clapped and cheered