That same Sunday...
Yasir and I were going to IBA to go see our boy Omar Khalid perform at a talent show. This was IBA's annual "Talentopia" where a whole bunch of students from the University Campus would be performing songs/ skits etc. I love the IBA crowd, this was the same venue where we had one of our best ever performances at Battle of the Bands about 6 months ago, I have fond memories of the place and the people.

OK was performing some covers with his buddies so I thought it would be fun to go and cheer him on. Yasir of course was hoping that he could leap on stage and perform a gut-busting pelvic-thrusting darbuka. I gotta admit the guys enthusiasm is infectious. Like dengue.

The IBA crowd was loud, raucous and really energetic, I had a lot of fun just sitting in the auditorium. There were some outrageous skits, some great singing and some not so great singing. My favorite moment came when this girl came out to perform an instrumental piece on her keyboard. Poor thing must have gotten stage fright because she froze right after playing the first couple of bars. Then she tried again and froze. And again. And again. The best part was that each time she stopped, the crowd would rally to her support and cheer her to carry on, it was a truly heartfelt moment when she finally overcame her jitters and played her version of "Aitebaar" and the entire audience sang along. God I love music.

These days OK is cultivating a mast-malang look complete with full length beard and unruly uncut hair. I think it suits him. However, I fear he might be hosting several different species in his facial hair.

So OK and his boys took the stage and launched into a rendition of Audioslave's "Like a stone". Would have been awesome if an errant mic hadn't been squealing the entire time. But they really pulled it together when they did Junoons' "Mitti". Along with being the "best drummer in Pakistan" Omar is an exceptional guitarist and he pulled out a mesmerized solo that drove the crowd wild. Great stuff. It really humbled me when I realized that I wasn't even the best guitarist in ADP, let alone the Karachi music scene!
Our buddy Saadi was playing our darbuka for the songs. This incensed Yasir who claims sole rights to all darbuka-ship and I had to physically restrain him from jumping on stage. (Other things that incense Yasir include people calling the darbuka a tabla, dhol, tarbooza, tamboora etc.)

Here's a picture of the two darbukas we used in the recording.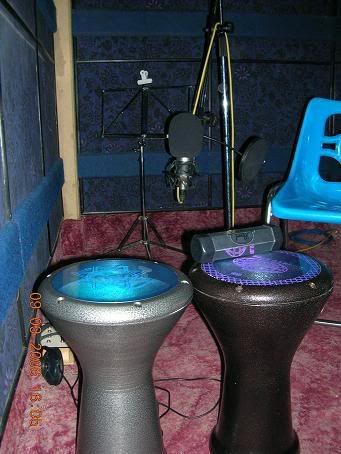 I vowed that ADP would come back and perform exclusively at IBA whenever this album gets out. Now there's a crowd that truly knows how to enjoy itself.
"Singing to an ocean, I can hear the oceans roar
Play for free, play for me and play a whole lot more, more!
Singing bout good things and the sun that lights the day
I used to sing on the mountains, then the ocean lost its way."
-

Led Zeppelin

"The Ocean"