The 13th Day.
Never happened.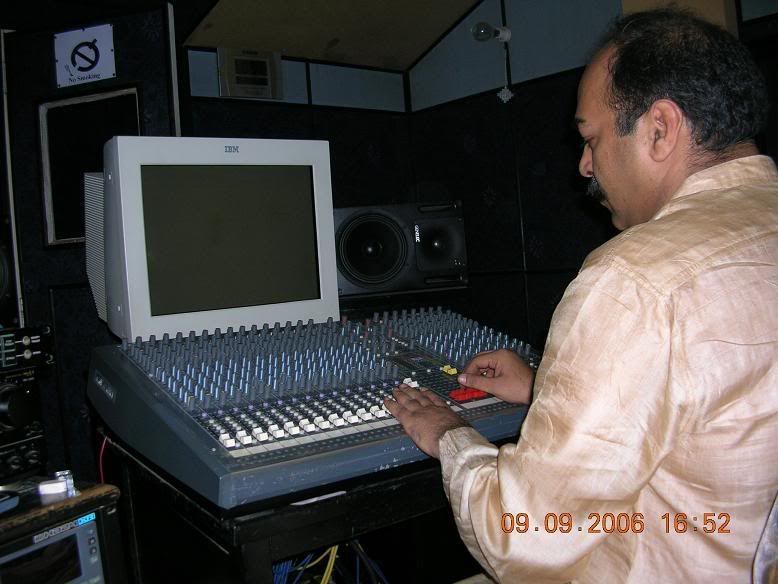 Living up to its' lucky reputation, our 13th day in the studio never happened. Imran and OK were supposed to make the trip this time because Yasir and I were both out of town. The night before the shift Raza called me saying he wanted to cancel because he was feeling sick. I refused because we're already behind schedule. (Turns out he wanted to cancel our shift so that Ashfaq Bhai (ref. to pic) could do some mixing for another artist.) So anyway I thought we were good but the next morning Lodhi sent me a message telling me that the Raza had cancelled the shift anyway.
I was livid.
It's bad enough that we've already paid these guys. It's b
ad enough that we are funding the entire album with our own bloody money. But it's worse when they go ahead and treat us like some bacha band and give our time to someone else. Raza had agreed to give us a make-up slot on Friday but he still suffered an earful from me.
I was disappointed because this was my first bad experience with the studio guys who I thought we had a genuine rapport and understanding with. Maybe they took advantage of that and rolled us over. I suppose one has to be thick skinned in this business. In the end we just had to cut our losses and move on.
The way things are going, I'm guessing the album won't be out officially till March 2007. However I think we'll be able to release some songs earlier than that, so we won't keep people waiting too long…I really don't want us to be one of those bands that keeps hyping an album that never comes out, so I'm just praying that we can work it out.


The other problem is the video. Now we're in talks with a bunch of people regarding the video for our first release (will probably be "Sultanat"), we've got some good concepts and som
e really weird ones.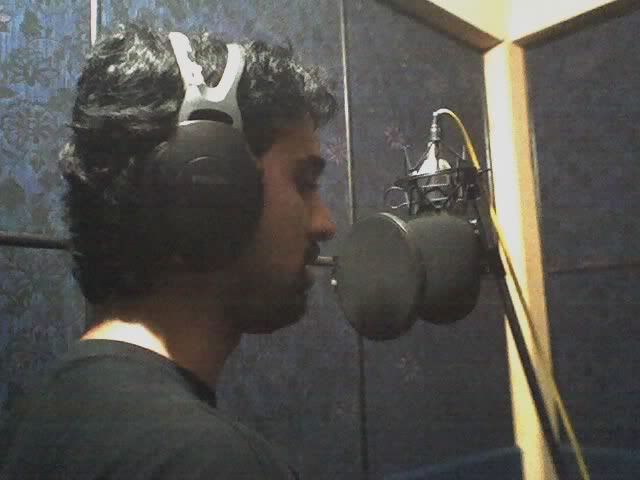 What we don't have is any money to fund this. I'm loathe to get a sponsor and
have them puke ads all over our product. I think we can raise some money through concerts and some co
ncentrated ass-kissing but it's a long road. Any suggestions?
I know whining is pointless, just needed to let of some steam.

So to
ch
eer us all up, here's
here's a picture of me in the vocal booth doing the takes for "Sultanat". This is about as far as I will get "making love to the mic"