The Great ADP Independence Day Weekend: Part 1
So the Independence Day Weekend 14th-16th August was a dream weekend for ADP. We had two incredible concerts, one at the Indus Valley School for Art and Architecture (yes, I have to say the whole thing, it makes it sound grand) and one at Rangoonwala Hall.
We used to have a college love affair with IBA back in the day when we started, now it's with Indus Valley. They always have such a great, festive atmosphere at their events and we jumped at the opportunity to play at the their annual Independence Day Mela.
Now it's always tricky playing Independence Day Gigs because there is this pressure to perform patriotic songs, i.e. Dil Dil Pakistan, Jazba Junoon or sing the Roz Roz Good Milk jingle because the crowd demands it. We took a conscious decision not to play any national songs because a) we sucked when we tried to play them b) Omar Khalid refuses to play a bhangra beat c) we thought it might look like we're trying too hard to pander to the audience. Now don't get me wrong, I am an expert panderer to the audience as long as I get love. (Listen carefully children, this is what an attention-whore sounds like). But at the same time, the whole 'qaumi'-songs-on-14th-August has been done to death and the whole idea of forced patriotism is just cheesy to me.
I shall now save you haters the hassle of leaving stupid predictable comments accusing me of being unpatriotic by doing it myself.
This is the problem with burger bachas like you, you hate Pakistan and all things desi and you love America that's why you don't sing qaumi songs
on
14th August.
You're just trying to be too cool by not playing patriotic songs
Our culture...blaah blaah...national identity..bllaah blaah...Begum Noor Jehan....bllah blaah...music inspiration.Jeevay Jeevay Pakistan....blah blah... i'm proud to be desi...blaah blaah...next generation...I hate you.
Anyway, so the Mela itself was great, we had a couple of local college opening acts that went on before us, the most memorable of which was a duo that played an angry, punk rock, completely out of tune version of The Backstreet Boys "I Want It That Way"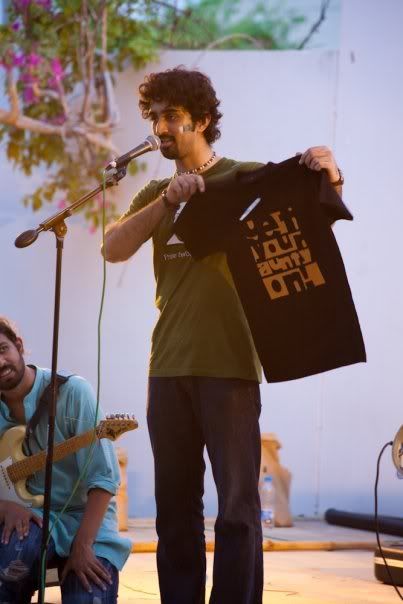 I got my face painted in the spirit of things, and the boys and I all chose to wear some form of green. (Notable exceptions were Rahayl who wore black, because he hates happiness and Omar Khalid who wore red because he supports communism. But also because it was a present from his wife.)
As we were sound checking, a large gentlemen in a starchy shalwar kameez came and wistfully asked OK if he could play some bhangra because him and his buddies were in the mood to dance. I kid you not, this actually happened. OK, never being one to miss an opportunity to mess with someone then told the gentlman that he didn't know how a bhangra beat went. Obviously the guy proceeded to demonstrate with his best bhangra-beat-box effort. OK then pretended to get the beat and forget it, driving our starchy bhangra man insane.
Right after sunset, we were ready to take the stage. There was a massive , really excitable crowd and they were warmed up by some Pathan students (who introduced themselves as the rather mencaing Pukhtoon Federation) came and did the tradiotional dance to Bibi Shireen. I thought it was fantastic and the crowd really got into it.
With all the excitement bulding up, we took the stage and kicked off with Baba O'Reilly.
It was absolutely fantastic! Even though the stage was sparse and had only two floodlights on either side, it ended up looking really dramatic with the huge Pakistan flag in the background. We had been treating this show as a bit of a warmup for the big one we were going to do at Rangoonwala Hall, but suddenly with the crowd and the electric atmosphere it became a full-on rock show. We played a short set, probably only half an hour but it was really energetic and the crowd were having a fantastic time singing along and dancing. We also got to unveil our brand new "Get Your Aunty On" ADP t-shirts and chucked a couple into the crowd (much to our managers dismay).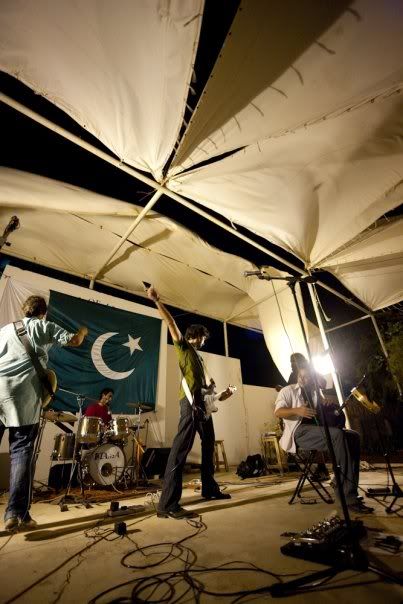 After the show, we were completely drained, but relieved. This had been the first ADP show with new line-up of Ali and Rahayl and we felt the curse had finally broken. We hadn't done a live show since we were in LUMS in May and this short, fantastic little gig had really done wonders for our confidence. We were all set for the big one on Sunday...
Photography by Aroosh Naqvi.