Days 13 and 14: Noori beats us to a song title.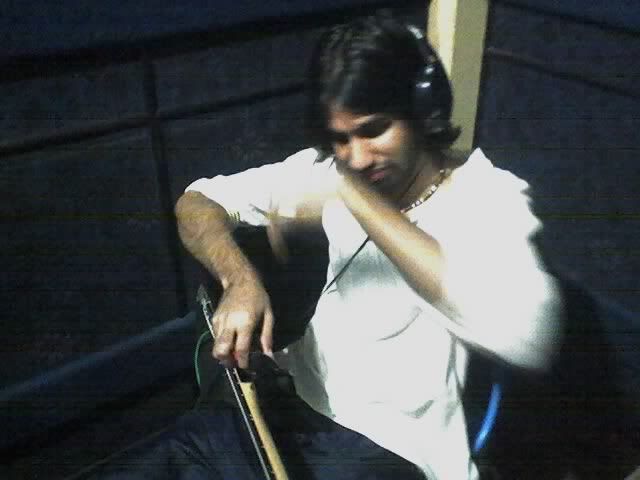 The weekend was a killer. To make up for last weeks no-show we scheduled morning shifts for Friday and Sunday. I have a half-day at work on Fridays so I was able to make it in the morning.

But it turne
d out to be an insane day.
Lodhi's approac
h to playing guitar is very different from mine. When I did my guitar parts, I played basic rhythm guitar first, then added a distorted guitar track if needed and then would play the solo last. I tend to work in layers where Lodhi tends to go at it in parts.


For the songs, "Dhoop" and "Ho Bhi Jahaan", the first things he did were the little riffs and licks and solos and then he put on the clean rhythm guitar which was sparse.
On "Gaata Mein Chaloon" I was strongly pushing for him to use an acoustic to do the basic rhythm of the song but he wasn't comfortable on it. The acoustic guitar is difficult to record because it has a highly dynamic sound that you cant control through an amp. But I personally feel that it sounds so much sweeter than the electric, it ju
st has so much more, heart.
Eventually we used it to do the opening of "Merey Dost" (A working title for the song which we'll now have to change because of damn Noori!)
The aforementioned "Merey Dost" is turning out to be a complete monster to record. Lodhi wrote it as a fairly simple tune with a catchy and powerful melody. OK did some highly imaginative drumming on it that changed the direction of the song completely. I personally feel its his best drumming on the album. But keeping up with him on bass was maddeningly difficult, and the end result is a song longer and more complicated than the rest. The tempos keep shifting without warning making it extremely hard to dub anything over the bits that aren't structured. Personally I feel that when people will hear this song, they will either drag us through the mud completely or they will praise us for giving
some
thing like this a shot. I just hope there isn't indifferenc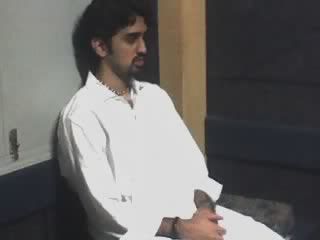 e.

Anyway, to spice it up, we even brought a keyboard into the mix, which Yasir and I tried in vain to use properly. But our lack of preparation showed and we couldn't use the keys to their full potential, we'll definitely have to do our homework there. We ended up mucking around with the video game sound effects, including sirens, whistle and monkey hoo
ts.
Yasir and me were discussing album covers. No doubt inspired my attire of a wadera style white kurta, Yasir said we should all pose in similar kurtas on the
cover. He apologized as I choked him.
We also discussed how to sell out like Ali Zafar and endorse mobile phones. Here we are pretending to endorse guitar string cleaner. Advertising people please take notice
.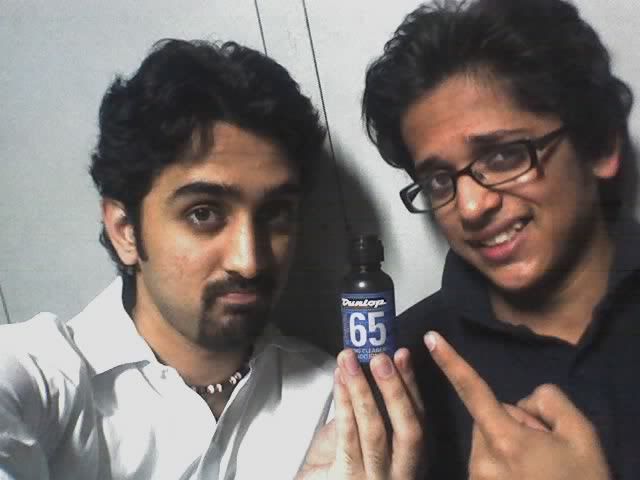 All that's left are Lodhis vocals and some more backing vocals. We should start mixing our first couple of single pretty soon, which will be the hardest bit I anticipate. We'll be working Friday and Sunday mornings for the next two weeks. Aaargh….sleep, sleeep, I miss sleep.


P.S: If you guys are having trouble commenting you can click here, the page will reload through a different server and you should be able to comment. Pkblogs is being potty.
Labels: Studio Sessions