Best Gig Ever? (Caution: VERY LONG POST FOLLOWS)
Now this was truly a concert to remember. An awesome crowd, great weather, great music and a killer response. This past Sunday at Alliance Francaise, we played out of our skins and rocked Karachi…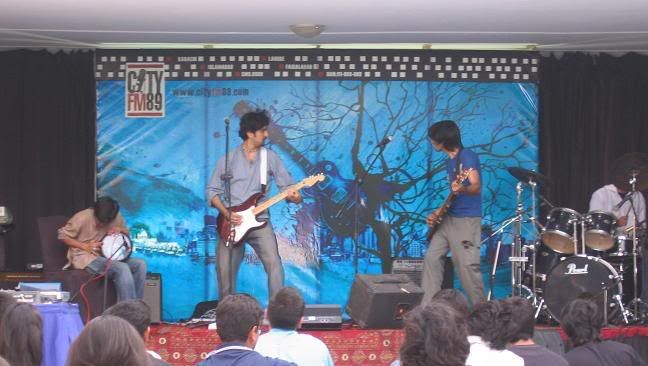 Things started off badly, when we arrived at the venue at 11 in the morning, the sound guy wasn't there and the stage had barely been setup. The lights guy wasn't there either and the organizers were throwing a fit. Plus I
couldn't remember the lyrics
to Rock the Casbah. Maybe that was just tension. This was go
ing to be the fi
rst show a member of my family attended, my sister was coming, so I was coping with a special kind of stagefright.

Then as soon as we were about the soundcheck, Sajid and Zeeshan showed up and asked to
do it first, given that they had several electronic items to test. They have an interesting live setup. With Sajid playing guitar and singing, and Zeeshan providing sampled drum beats, keyboards and turntable...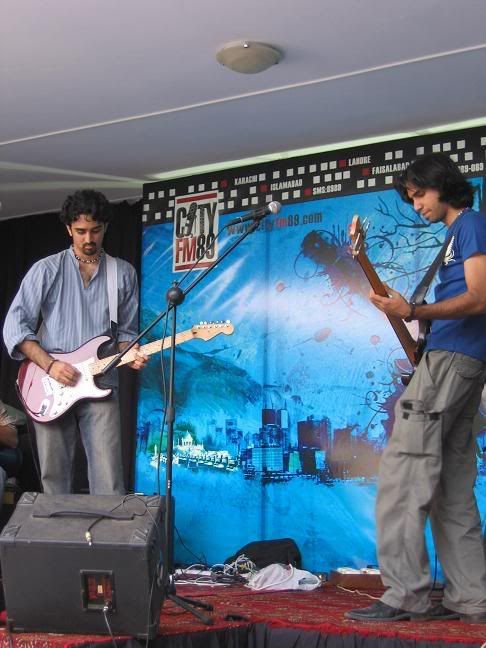 So after what seemed like an eternity, we finally got on stage and soundchecked i
n a rush. The soun
d was pretty confused, I guess because with so many bands, the sound guys had been overloaded with inputs. Tensions were running high with people just beginning to trickle in.

Anyway, by the time Sampurna and the rest
of the classical musicians ha
d
warmed up the audience, we were ready to go on, but were told to wait as a piercing wailing cut through the air. Apparently somebody had let a 8 year kid take the stage and belt out "Terey Bina Jiya Nahin Jaye". I would have been amused had I not been grappling with my nerves. Even my band members got worried because I am usually never this nervous. I kept feeling like I was going to collapse on the stage. It took every ounce to get up
there and Lodhi suggested we just jam a little to w
arm ourselves up. Even then I was jittery. But I saw the fac
es of the crowd, and somebody shouted "I love you OBA!!!"
, I knew there was no place else I'd rather be.

I looked over at OK and he counted out "1…2….3….4" and then BANG, we slammed the opening chords to "P
ride (in the name of love)". Suddenly everything melted. The music was flowing, I could hear ever ins
trument and my voice was ringing out loud and clear. The crowd was loving it…


But
if they liked that, they went downright crazy on the next cover. We launched into the punk rock stomp of
"Shipping up to Boston" by the Dropkick Murphys. I was so glad we pulled it off because it was an extremely difficult song to do and we had almost scrapped it. But I figured that even if it didn't sound good, people would just appreciate that we were ballsy enough to do it.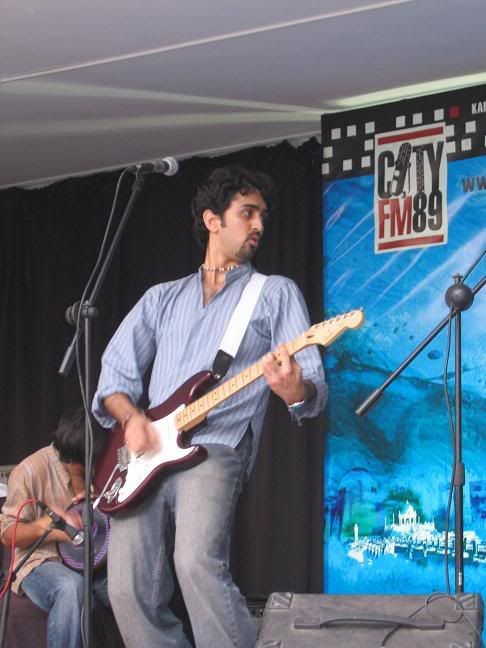 Our original "Sultanat" an
d "Such" got a raucous reception and I could actually see kids headbangin
g in the front row. I couldn't believe it. It seemed unreal that people would e
njoy a song I wrote in such a physical way
.

Along with "Tainted love" and 'Rock the Casbah" (where Yasir fired up the audience with his belly-dance groove) we ran through the covers and then we did Sheher Kay Aansoo where Yasir's mic stopped working. After I did "Nazar" alone, Lodhi switched to guitar and did "Ho Bhi Jahaan".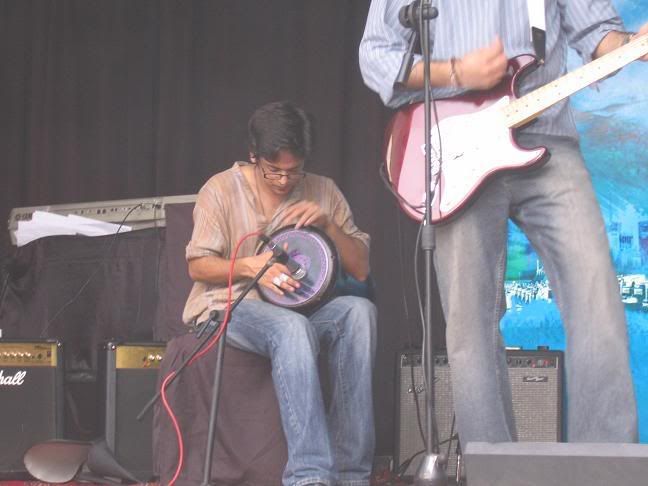 Now initially we were
going to close with "Comfortably Numb" but we too
k a vote on stage and decided t
o pull out our old showstopper "Sympathy for the Devil". It was in the middle of this 15-min finale that Yasir pulled out what I like to call the "Hand of God Darbuka Solo". The kid went crazy, he never missed a single beat and then starting from a slow rise to a fiery crescendo, he played the audience like putty. We pulle
d out all our tricks in the end, guitar solos, bass runs, drum/darbuka interaction, harmonica solo and even fitted in Elvis's "Let's Have a Party" smack in the middle.

When we ended, I heard the loudest cheers we had ever got, with people screaming for an encore. I guess its better to always leave them w
anting more….so we declined.
Getting of backstage, we just soaked up the reception we were getting, and we heard them cheer one last time for ADP. This feeling is worth everything in the world.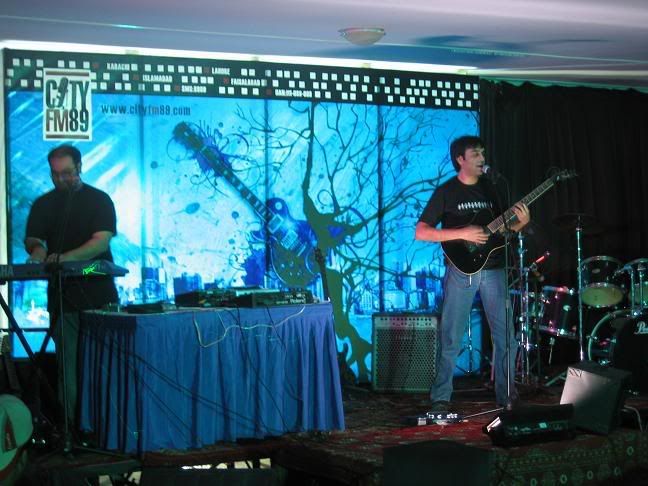 The rest of the concert was a complete b
last. But I was disappointed
because Sajid and Zeeshan (see pic), who we are huge
fans of, had told us they were gonna come especially to see us perform. But they never made it. I guess they had some other commitment, but I couldn't help but feel a little hurt. I know it means nothing but I really wanted to show an established act how good we are. Nevertheless, they showed up in the end and performed incredibly in the evening, with the stage lights on.

I enjoyed Above's tribute
to The Doors, and I joined them onstage to play some lead guitar on "Roadhouse Blues". I had labeled the guys from Az as "The Darkness" because they all wore black and were constantly smoking in a huddled corner. But they played a great set, with originals and Tool covers. Watch out for them soon.

The other funny thing is the Az boys sing with impeccable American/English accents when they sing in English. But if you talk to them normally, they have the stereotypical Pathan accent (the boys are from Peshawar) which sounds really melodic so I shared a couple of laughs with them.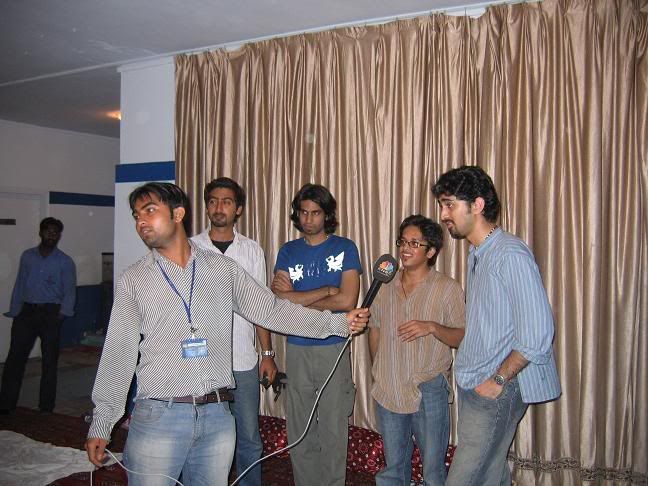 As usual, the obligatory press arrived hours after we performed and then attempted to interview us. CNBC showed up and put us
in a corner and handed us the mike.(see pic) Now the whole thing seemed rather silly to us, given that they weren't really asking any questions. So we turned the interview into a piss-take session, with Lodhi plugging our album shamelessly and OK doing his best Inzamam impersonation ("Jee…the buays played well…jee"). I predict we will be edited.

I am really beginning to feel for our fans because I found we had some die-hard on
es, especially from IBA, who cut short their college picnic at the beach to come see us. I was extremely touched, and pledged to give them free tickets to the next show.

It was a day to remember and we were still living off the stage-high well into the night. Thank you everyone who made it and saw us perform, and sorry to the guys who were expecting us to perform later and missed us. Thank you to City FM89 who organized an incredible event and thank you to my band, you guys are true stars. Here we are right after we got of stage....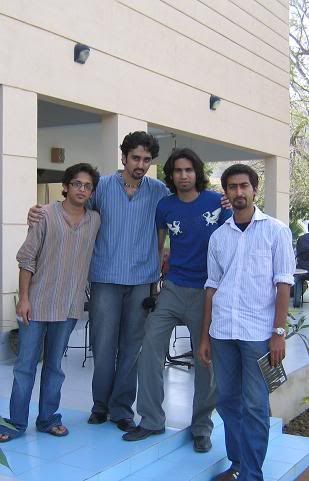 Labels: Gigs