Zeb and Haniya with Aunty Disco Project! Live at The Forum Karachi!!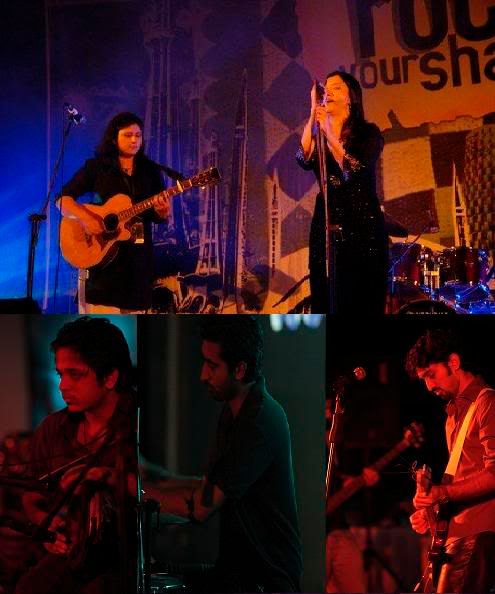 We're performing LIVE! Full ON ADP concert! Our first one since June...
We'll be playing with our old friends Zeb and Haniya in the middle of The Forum Mall in Karachi, Friday Nov 28th 6 to 9 pm.The show is being put together by Adil Moosajee and his company "EGO" which is an excellent ladies apparel store, (you can check them out on Zamzama and in The Forum).
Now I am absolutely stoked to be playing with Zeb and Haniya again, we performed with them first for the Shanaakht show in August 2007 and again for a private show for Nokia and Radio191, so along with Mauj, they're our favorite people to share the stage with. Of course things are different now. We both started out at around the same time, but since then Zeb and Haniya have gone on to become a critically acclaimed musical duo with an album that is one of the best things to come out of Pakistan and a gorgeous, sexy video that's shot them straight to the top of the fame game. While we on the other hand have lost one band member and have released our third video which people think is our first video and are still desperately trying to 'arrive'.
But those gals deserve it. They are immensely talented and their songs are exquisitely crafted and I'll be over the moon to be sharing the stage with them again, heck I'll be in the front row singing along to their entire setlist.
Having said that, this show has me really nervous for several reasons.
Performing for free in the middle of a mall is always tricky because at least half the audience is going to be the Atif Aslam/Ali Zafar crowd who could be extremely unpredictable in their response to us. I really don't know if the 'awaam' likes our stuff.

I don't want to perform covers for this show. We've got enough originals now to have a set that is all us. But obviously people barely know our stuff, apart from 'Sultanat' and 'Nazar'. They could choose to tune out completely. So we'll have to do covers. But which ones?

Zeb and Haniya are awesome and are being backed by the guys from co-Ven who are also awesome. They are going to blow us off the stage. Either that or we'll look like headbanging monkeys compared to the sophisticated grace of their songs.

The elite crowd and media are all coming to see Zeb and Haniya. Industry bigwigs, people who can help us get to the next level are all coming to see the girls perform. I really hope they catch us as well, but they usually never do and we have to try to get their attention again some other way. Without nudity this time.
5) And of course, here's the real disadvantage of being a small unknown act, our live sound guy from Audiolink, who we exclusively do shows with has ditched us to do the sound for Ali Azmat, Mauj and Noori who are performing in Lahore, despite committing to us earlier. Now I know, bigger acts will probably pay him better and more exposure etc. etc. But it still serves as a sad depressing reminder of how far we have to go to get some clout in this business. Now, he's ushered in his brother as a replacement but it'll be his first show with us. It's just not good karma.
Now if you had spoken to me a year ago I would have been my usual "Fuck it all, we're ADP! We're the best live act in the country and we'll take on any crowd". But recently our concerts just seem a little more low key and while I know that the release of "Nazar" definitely got us a whole bunch of new fans, our last few live shows have been missing that special something, that crazy energy between us and our audience. Maybe it's because Lodhi isn't with us anymore, and its a sign. Or maybe it's all in my head I don't know. All I know is that for some reason, the need for us to deliver on this show seems huge.
I really hope we can.